Larsen Family Home Page
We are a family of 7 in NH, USA
Contact Me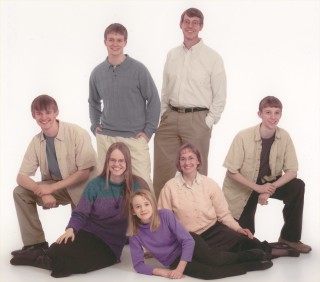 Picture taken 7 January 2006

Web Site Statistics:
larsen-family.us - mirrored-minds.net - 1066 - linenLady9 - toulouse
Hits Since 16 Oct 2004
---
Stanford lost his battle with cancer 23 Jan 2007.
Please visit the StanfordLarsen.org website.
I'm constantly adding pictures to the site. Digital cameras are wonderful and pictures are added soon after they are taken. I've scanned every picture I've taken since 1966.
PICTURES & STUFF
---
I've been working on organizing my parents' photographs and history. Check it out.
LARSEN FAMILY HISTORY
---
There are lots of other pages on this website having to do with family and church. Click on the link below to see the list
Links to Family Stuff
---
I've written a few bash script utilities that have come in quite handy. Click the following link to find out about them.
BASH SCRIPTS
Below shows output of some of the scripts in action
ping_tests - ssh_tunnels - backups
---
France Toulouse Mission